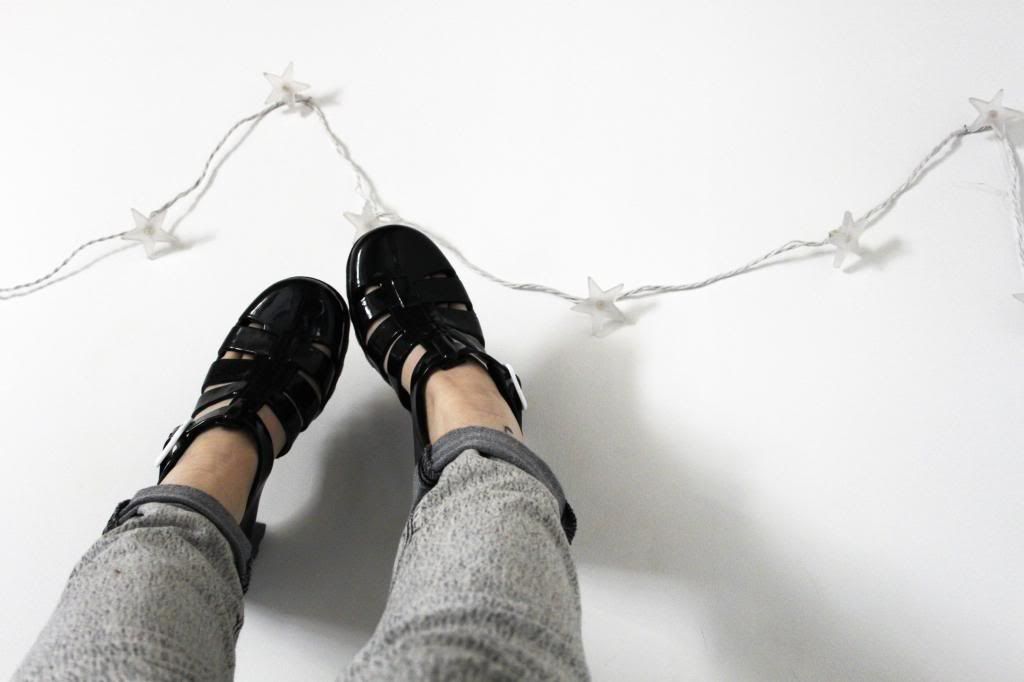 I finally have a pair of jelly shoes! and not just any jelly shoes, but JuJu Jellies. Handmade, recyclable, pretty, and super comfy, these jelly shoes are made of a soft plastic, nice and flexible.
I used to have these shoes when I was small, and I remember wearing them with cute dresses, dungarees or my tutu haha. I had a transparent pair with glitter, the most famous design of jelly shoes. But JuJu shoes are original from England, more specifically from Northampton and they've been bringing us
these lovely and cute shoes since 1986.
Because it's still a bit cold, I haven't had the oportunity to wear them much, but I can say they are really comfy. I wear a UK 5 size (EU 38), I bought these size 5 and I even have quite a space in the front! So never buy a bigger size than you normally wear, buy just your size because you'll even have some space left. When you buy jelly shoes, always try and get a pair that is not too tight. I chose black because I can wear them with everything, but I also love the transparent with glittler or the pastel pink pair.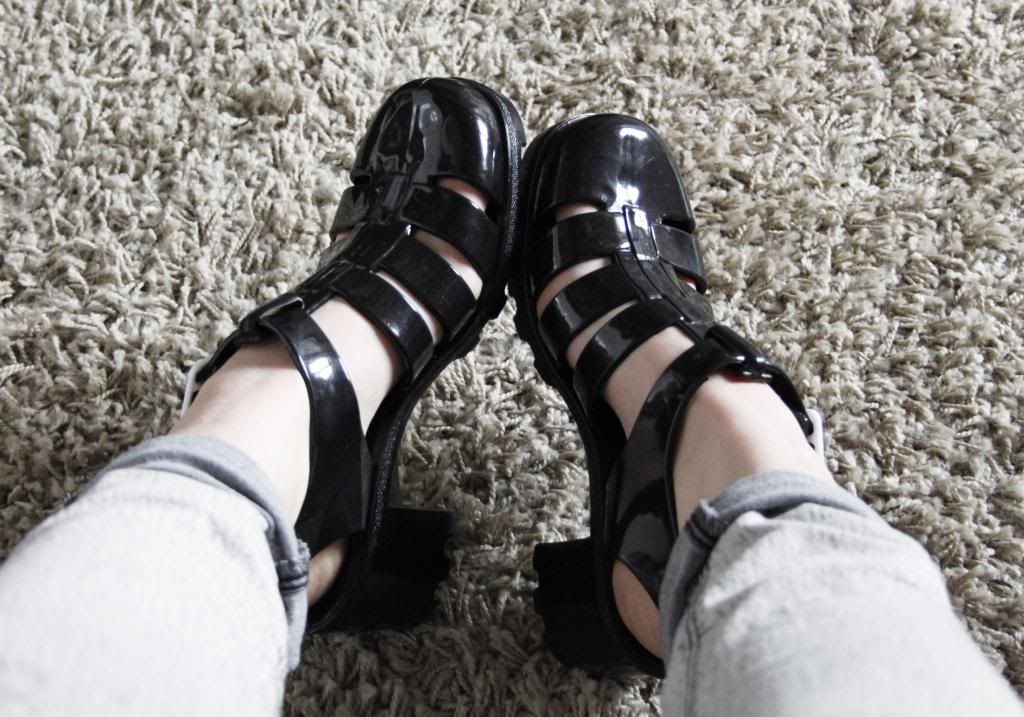 Jelly shoes are very light weight, very comfy to walk in and they have the right fit. They don't harm your feet and they don't boil them in summer (even though their made of plastic). I find them to be the best pair of sandals. I have lot's of trouble when finding shoes to wear, because my feet are very sensitive and get sore quickly, but because the plastic is soft and they are not to tight, my feet can breathe and be safe haha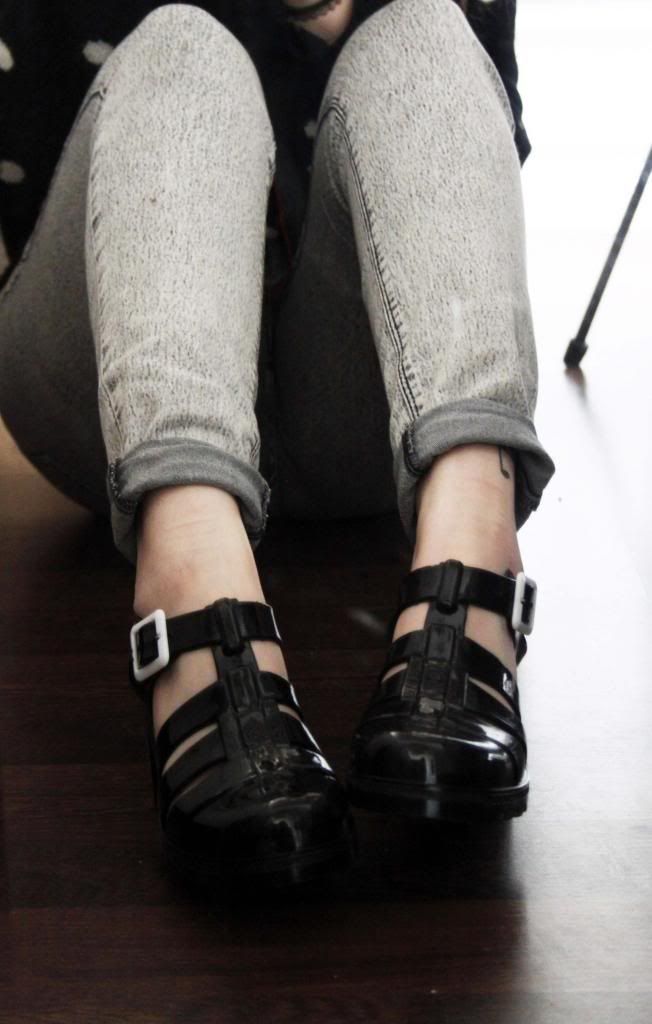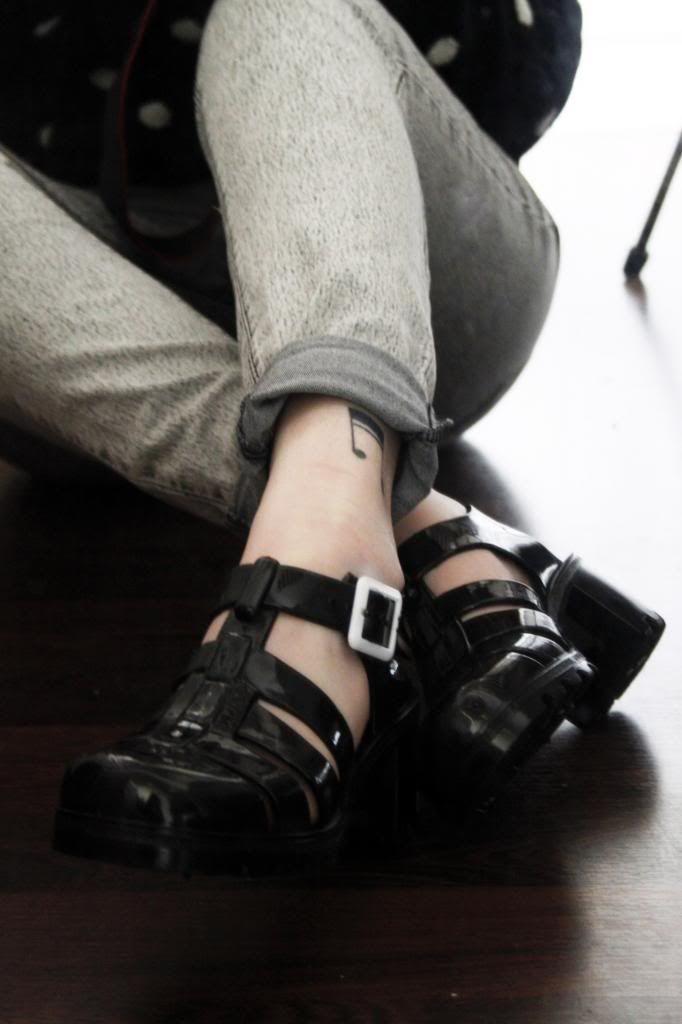 I bought my JuJu Jellies at
ASOS
, but you can also find nice pairs at Topshop, Urban Outfiters, American Appareal, Dolls Kill, Zalando or Nasty Gal. If you don't need them to be JuJu but just jelly shoes you can find lovely pairs at River Island or Missguided, or buy yourself a pair of Jellybeans, which are similar to JuJu but have a different design (and also sell rain coats!). I recomend them to be a very soft plastic so
they don't make your feet suffer and though I bought a black pair, buy nice and fun colours to wear! They always make an outfit more cheerful and outstanding.
Thanks for reading! See you next time!